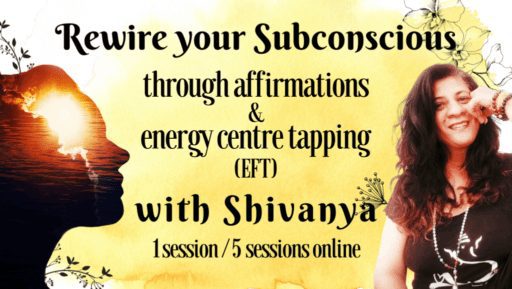 Rewire your Subconscious through Affirmations and Energy Centre Tapping (EFT)
Course Type : Online Live, Private Session
Duration : 1 session / 5 session
Scheduling Options : As per participants' time zone and convenience
Level : Beginner, Intermediate, Advanced
Price of Course : USD 20.00 / USD 75.00
EFT or Emotional Freedom Technique is an alternative healing technique that targets specific meridian points or energy hotspots in the body. The process involves tapping these points using the index and middle finger to bring mental and physical balance. Inspired by ancient Chinese medicine, EFT tapping has now become a popular therapy as it has scientifically been proven to show results where other forms of therapy, medicine, and healing have fallen in short in making a mark.
Stimulating the meridian points through EFT can help balance energy, remove blockages, reduce stress, and release negative emotions. Shivanya Yogamaya is our in-house EFT specialist with decades of experience behind her; our 7 day online course with her includes EFT for any unresolved mental issue or physical ailments you may be facing.
EFT can help with the following concerns: • Fear • Addiction • Cravings • Anger Management • Anxiety • Depression • Insomnia • Pain Management • Weight Issues • Unhealthy Habits • Phobias • Stress • Trauma • Money Worries • Breakup Recovery • Self-confidence • Self-love
What Our Student say about this Class?
Hi Shivanya, we had a very good time attending your couple therapy sessions. All the sessions were conducted with good energy and fun. You had a plan for each session and also home work for us to perform post each session. You even have given inputs and ideas privately to complete the tasks given in the sessions. You have shown great interest in solving the issues between us and tried many ways to see that we understand the problem between us. One special thing which lies apart is, you have not taken any sides in our arguments which was crucial to solving our relationship issues. We are glad we had a couple session therapy with you. I hope that we continue to grow from the platform you have laid for us and improve our relationship for a memorable life together, thank you.
We are glad to relate with Shivanya as our Relationship coach in the therapy sessions. She is highly energetic and a blissful person.She makes the sessions more interactive by involving both of us rather than making it a one-sided teaching.She patiently listened to our issues and provided solutions which helped us in understanding the actual needs of each other which had been missing all the time. I feel her sessions will be extremely useful for all those people who are about to be married or to the newlywed so that it becomes easy for them to develop or nurture the new relationship that is emerging between the couple and the new family, and also it gives them an idea on how to handle difficult situations if encountered in the new family.